/ INTRODUCTION
Subject : Boaz is the legend. It is the postulate of the narrative and it's the community where the young man lives that says so, because people need a surface where to project their desire for transcendance ; Boaz is this surface. Yet, he asked for nothing. Even, he'd rather be like any other man of his age. But he accepts his load and therefore is nothing ; he doesn't live for himself, but only for them all.
But the legend cannot live, as they all know : His father Amos, Deborah his sister and the whole community who let him leave without realising that he'll take Malachie with him, his brother who worships him, and from whom he is inseparable.
---
Novel / artworks : In the novel are evoked certain objects or photographs, often produced by the characters themselves, that materialise, in the exhibition, becoming visual or sound artworks.
---
Stages : Boaz is developed by stages, each of which unveiling a different aspect of the story.
1/ The first stage of the project has taken place in May 2021 at Galerie Sator – Romainville, where were exhibited the eponymous novel's characters' artworks : Malachie's dolls, his drawings – the stars, his photographs of the crosses on the walls of the Procida island, Deborah's photo album and her drawings, Malachie and Boaz's film as well as my own film, built on Boaz's images.
2/ At La Kunsthalle Mulhouse, most of these artworks are exhibited again along with – and for the first time, the after-Boaz and the appropriation – the celebration of Boaz's legendary character by the community once he has disappeared, through :
◊ a series of conversations with the two survivors, Deborah and Amos, by Emmanuelle Lequeux, Anne-Laure Chamboissier, Sandrine Wymann, Marie Chênel, Coline Davenne & Ami Barak ;
◊ some audio documents – archives of Deborah's interrogations ;
◊ artworks celebrating the legend : a monolith, a clock, some posters and portraits.
3/ Boaz's third stage, work in progress, will show the journey of a young man, born long after Boaz's disappearance and having not known the legend but htrough its appropriation – autoritary and administrative, so he thinks – wishing to destroy it to set free.
/ STEP 1
GALERIE SATOR,
KOMUNUMA, 2021
ARTWORKS
Boaz, film — 23 min, UHD 16:9 stéréo
Boaz is my brother — video, 5 min 50, UHD, 4:3 stereo
Malachie's dolls — straw & wire
Doll portraits — RC Canson paper
The photographs of crosses on the walls — dim. 40 x 60 cm
Deborah's album — photo album, 60p, drawings by Meris Angioletti
Malachie's stars — 2 cyanotypes, dim. 60 x 90 cm
Letter from Malachie to Romain
Posters — series of cyanotypes, excerpts from the novel, dim. 30 x 40 cm
Boaz, novel — unlimited ed., 10 x 17 cm, ed. Sator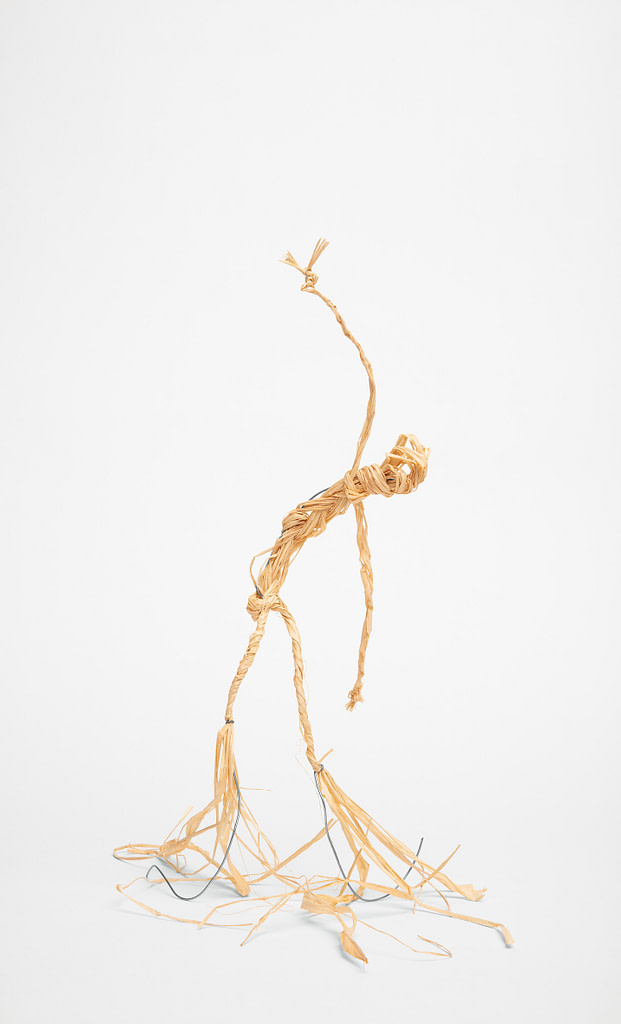 / STEP 2
LA KUNSTHALLE
MULHOUSE, 2022
ARTWORKS (in progress)
Doll landscape — straw & wire sculptures arranged on a wooden sculpture (dim. 500 x 120 x 60 cm)
The monolith — sculpture made of granit & wood, dim. 300 x 300 x 230 cm
The clock — sound artwork, dedicated software, 2 wide band loudspeakers, 1 horn speaker
The interrogations — sound artwork, 2 loudspeakers, dedicated software
Boaz, novel — limited ed., 120p, 14 x 21 cm, Rives Tradition paper
Deborah and Amos' slides — 34 slides in loop, with the participation of Meris Angioletti
Boaz è mio fratello — sound artwork
Investigation report XIX/265 — text
Correspondence — Emmanuelle Lequeux, Ami Barak, Anne-Laure Chamboissier, Marie Chênel & Sandrine Wymann are invited to dialogue with the characters
/ THE FILM
With a small video camera that never leaves his side, Boaz films his daily life, and in particular Malachie, his adoptive brother from whom he is inseparable. For the summer of their twentieth year, the brothers decide to make a film on the island where they have spent all of their holidays. The idea is Malachie's : by making the film, he hopes to dispel the mystery that surrounds Boaz, and at last find the words to say why he admires his brother so much. But Amos, the boys' father, cancels the trip, and it is up to Boaz to convince Malachie to make the film regardless.
/ CRÉDITS
Film by Romain Kronenberg, with Yannis Amouroux, Audrey Bonnet, Mathieu Amalric & Zéphir Moreels. Editing by the artist, dop Julia Mingo, original soundtrack by the artist, produced by Delphine Schmit (Tripode Productions). With the support of Centre national du cinéma et de l'image animée.
The project Boaz is supported by Commission mécénat de la Fondation des artistes, with the support of Direction régionale des affaires culturelles d'Ile-de-France (Ministère de la culture).